Revival
by Luci Shaw
March. I am beginning
to anticipate a thaw. Early mornings
the earth, old unbeliever, is still crusted with frost
where the moles have nosed up their
cold castings, and the ground cover
in shadow under the cedars hasn't softened
for months, fogs layering their slow, complicated ice
around foliage and stem
night by night,
but as the light lengthens, preacher
of good news, evangelizing leaves and branches,
his large gestures beckon green
out of gray. Pinpricks of coral bursting
from the cotoneasters. A single bee
finding the white heather. Eager lemon-yellow
aconites glowing, low to the ground like
little uplifted faces. A crocus shooting up
a purple hand here, there, as I stand
on my doorstep, my own face drinking in heat
and light like a bud welcoming resurrection,
and my hand up, too, ready to sign on
for conversion.
So what's happening in nature during spring?  Plants are pushing up through the soil after germinating all winter. They stretch and grow, unfurling into the warmer days and the increasing hours of light.
Those same things are happening in us. After a winter rest (hopefully spent storing and concentrating our energy), the power of springtime surges through us.
Have you noticed a desire to move more physically?clean your house?work in the yard? start a new project?

Spring is a time of rebirth.
If I have rested in the winter, I emerge in spring raring to go with clear vision and a sense of purpose. All those ideas simmering beneath the surface are ready to be planted as seeds for a future harvest. I am looking ahead, making new plans, determining my course for the coming year, and taking action to begin this new course.
Chinese Medicine
In Chinese medicine, Spring corresponds to the Wood element. Think of a tree (or any growing plant). After being dormant all winter, the sap rises, the flowers bloom, the leaves bud, and then unfurl. Everything is a bright spring green (which differs from the more mature green of summer).
The organ systems that correspond to the springtime are the Liver and Gall Bladder.  These organ systems include, and are not limited to, the western concepts of these physical organs. They are also linked to the tendons and ligaments of our bodies which help us move; they give us strength and flexibility. And to the eyes for actual seeing as well as for perception and foresight, how one conceives of something.
The Liver is the Official of strategic planning, the grand architect of our vision for the future; this official sees the directions we must take to live our lives. The Gall Bladder Official gives the ability to make decisions and judge wisely. Through these officials we can see both new possibilities and the wisdom of the past, and thus see the clear and appropriate course to take.
Suggestions for living in harmony with the Spring season
Move your body:  take a brisk walk; do yoga, tai qi, or qi gong; do stretching exercises
Dress appropriately for variations in temperature throughout the day:  wear layers which can be removed and donned as needed
Open the windows; let fresh air into your house
Eat foods to cleanse and lighten the body:  lemons, spring onions, greens  (see list of seasonal foods)
Spring is also the season of creativity so paint a picture, dance, write a poem . . .
Do something new to you:  take a class in something you've always been interested in, plan a new project, travel to some place you've never been, learn a new sport, volunteer
Spring clean your house
Reorganize your desk
Start a cleansing fast (spring clean your body)
Changes in eating:
In the spring it's time to lighten up our eating a bit. Eat a little less meat, reduce the root vegetables, and eat a lot of greens. Cooking times are reduced as more foods are steamed and sautéed  rather than roasted.
Fresh Produce to Eat in Spring
| | | |
| --- | --- | --- |
| Arugula | Green Onions | Nettles |
| Asparagus | Kale | New Potatoes |
| Bok Choy | Leeks | Parsley |
| Broccoli | Lemon | Parsnips |
| Chard | Lettuce | Radishes |
| Chives | Lime | Rhubarbs |
| Collard Greens | Mint | Spinach |
| Dandelion | Mushrooms | Sprouts |
| Fava Beans | Mustard Greens | Thyme |
| Fiddleheads | | Watercress |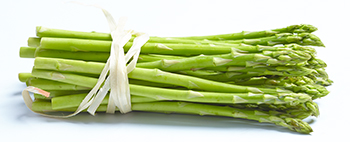 Recipes
For the past 30 years I have been devising ways to get my non-vegetable loving husband to eat, and even enjoy eating, vegetables.  Here are some recipes of seasonal foods about which he's been heard to say in a surprised tone, "Hey, that's good."
Pasta with Greens and Feta
adapted from Still Life With Menu by Mollie Katzen
6 tablespoons olive oil
2 1/2 cups chopped onion
 8 cups (packed) mixed greens, washed, dried, and coarsely chopped (use at least 1/3 bitter greens such as dandelion or mustard greens)
Salt to taste
¾ lb. penne, fusilli, shells, or some comparable short substantial pasta
½ lb. feta cheese, crumbled
4 tablespoons lemon juice
Freshly ground pepper
Heat olive oil in Dutch oven. Add onions and cook for about 10 minutes over medium heat, stiffing occasionally. Meanwhile put the pasta water on to boil.
Add chopped greens to skillet, salt lightly, and stir until greens begin to wilt. Cover and cook 10-15 minutes over medium-low heat, stirring occasionally.
Cook the pasta until al dente. Drain. When greens are tender, add pasta to pot. Turn off heat and stir in feta cheese. Serve immediately after adding lemon juice and a generous amount of freshly ground pepper.
Watercress Soup
from The Complete Vegetarian Cuisine by Rose Elliot
1 onion peeled and chopped
1 tablespoon butter or olive oil
1 ½ lb. potatoes, diced
1 quart of stock
1 bunch watercress, leaves and stems separated
salt and freshly ground pepper to taste
plain yogurt or lemon juice
In large saucepan sauté the onion in butter or olive oil for 5 minutes.
Add potatoes, cover again and cook gently for 5-10 minutes more. Stir from time to time and do not allow vegetables to brown.
Stir in stock and watercress stems, cover and simmer about 20 minutes, until the potatoes are tender.
Reserve a few watercress sprigs for garnish. Add leaves to soup pot. Puree with stick blender.
Season to taste with salt and pepper. Reheat if necessary.
Serve with a dollop of yogurt or squeeze the juice of a lemon slice over the bowl and top with a sprig of watercress.
Baked Asparagus with Balsamic Butter Sauce
from Cooking Light Magazine  
1 bunch asparagus, trimmed
olive oil
salt and pepper to taste
2 tablespoons butter
1 tablespoon soy sauce
1 tablespoon balsamic vinegar
Preheat oven to 450 degrees. Arrange asparagus on baking sheet. Drizzle with olive oil.  Sprinkle with salt and pepper.  Bake 10 – 15 minutes, until tender. Melt and brown butter in sauce pan. Remove from heat. Stir in soy sauce and vinegar. Pour over asparagus and serve.
Watercress-Cauliflower Soup
adapted from marthastewart.com
2 tablespoons unsalted butter or olive oil
1 small onion coarsely chopped (about 1 cup)
1 small head cauliflower (about 1 ¾ lbs.) cut into 1 inch florets
1 bunch watercress, stems and leaves separated
 4 cups (1 quart) chicken stock
1 teaspoon sea salt
freshly ground pepper
Melt and brown butter or heat oil in saucepan over medium heat. Add onion and cook, stirring occasionally, until soft and translucent, about 5 minutes. Add cauliflower, watercress stems, stock, salt, and pepper. Bring to a boil. Reduce heat, cover, and simmer until cauliflower is very tender, about 15 minutes. Stir in watercress leaves.  Remove from heat. Puree. Check seasonings.
Greens and Rice
Olive oil
½ cup diced onion
1 bunch chard or lacinto kale
1 clove garlic, minced
1/3 cup chopped walnuts
1 cup cooked rice
sea salt and freshly ground black pepper to taste
Heat olive oil in sauce pan. Sauté onion about 5 minutes until translucent. Add greens and garlic. Cover and cook 10 – 15 minutes, stirring occasionally until tender. Stir in walnuts and rice. Season with  salt and pepper.
You can easily double this recipe.
Seasoned Bok Choy
from steamykitchen.com
1 ½ pounds bok choy or baby bok choy
1 ½ tablespoons peanut oil
1-2 cloves garlic, finely minced
1 teaspoon grated fresh ginger
3 tablespoons broth or water
salt to taste
1 ½ teaspoon sesame oil (I like toasted sesame oil for more flavor)
Trim the bok choy stems.  Separate out the leaves.
Put oil, ginger, and garlic in cold wok or frying pan. Place on stove over medium-high heat. Let the ginger and garlic gently sizzle in the oil. When they become fragrant and light golden brown, add the bok choy stems. Toss well. Add leaves and toss to be sure they are coated with oil. Pour in liquid; cover and cook for 1 minute. Remove from heat.  Season with salt and drizzle with sesame oil.
Lemony Asparagus and New Potatoes
12 oz. asparagus
8 new potatoes (about 10 oz.)
2 teaspoons olive oil
½ teaspoon shredded lemon peel
¼ teaspoon salt
¼ teaspoon dried thyme, crushed
Cook potatoes in boiling water for 10 minutes. Meanwhile snap off and discard woody bases of asparagus; cut into 2 inch pieces. Add asparagus to potatoes and cook 5-8 additional minutes until vegetables are tender. Drain. Combine remaining ingredients; add vegetables and toss to coat.
Watercress Pesto
1 clove garlic
6 oz. watercress, rinsed and drained
2/3 cup walnuts
1 tablespoon mayonnaise
1 cup freshly grated Parmesan Reggiano
Place first 4 ingredients in food processor and process until relatively smooth. Stir in Parmesan cheese.
Serving suggestions:  Serve over chicken, stirred into rice or pasta, spread on crackers, or anything else you can think of.
Spring  is Transitioning into Summer
Can you see the difference in the color of the leaves on the trees? They are no longer a light spring green; they are now a darker color which will continue to deepen through the peak of the summer season. The flowers are in greater abundance. The grass is long and lush. And my seedlings now look like actual plants.